Gift Ideas for Sneakerheads (2022)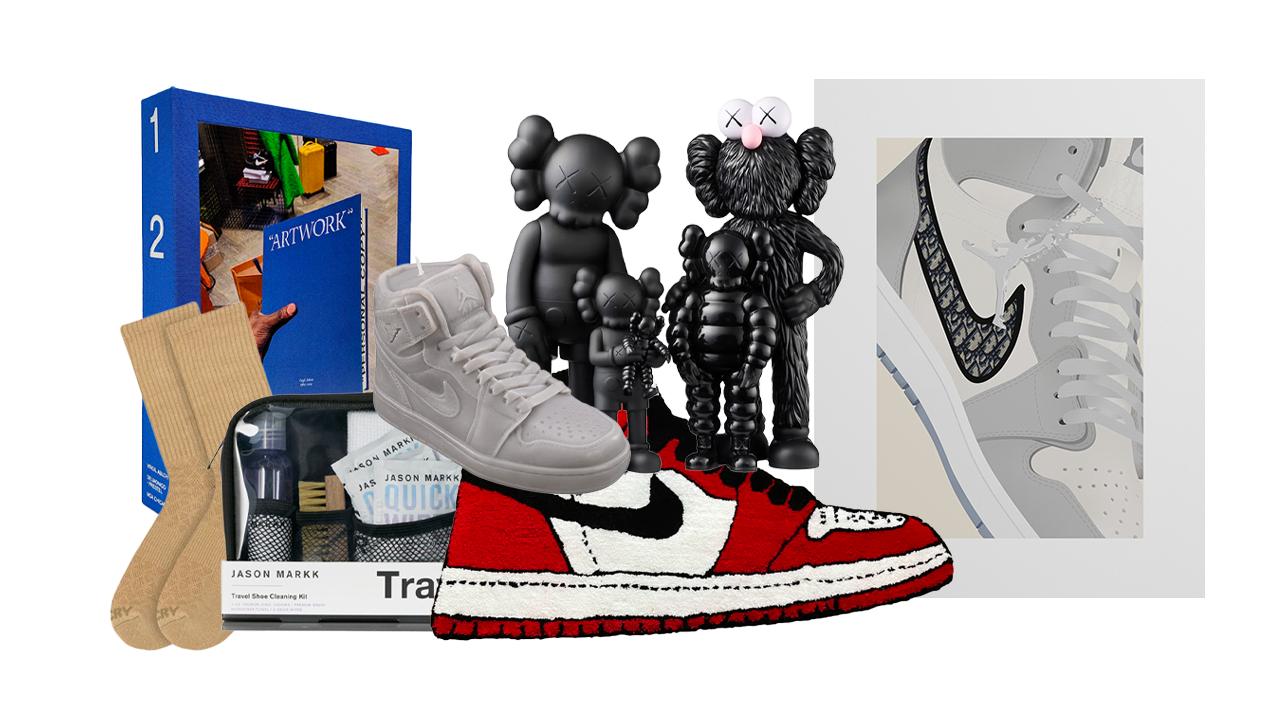 Its November 1st at the time of writing this post - Halloween is now over and the switch over to Christmas is just about to happen (if it hasn't already). As always, its ideal to get your Christmas shopping done early so that you don't end up giving socks or cash as a last minute gift (which in my opinion are perfect gifts, but thats just me).
If you have a friend or family member that loves sneakers, it can be a little tough to figure out an ideal gift for them (assuming that a pair of sneakers are off the table). Fear not - I've compiled a list of gift ideas that are perfect for any sneakerhead and flexible with any budget! Each gift idea will include links to suggested vendors, but you're welcome to make your own research into other vendors selling such items.
Disclaimer: none of the following links are affiliated or sponsored by anyone. These are just my honest suggestions as I think they're good products! Also, the links will be a mix of Canadian and American sites. Feel free to do your own research to find the same products in your local area.
Storage/Display Boxes
Collectibles
Kickbricks
Candles
Art Prints
Books
Rugs
Socks
Cleaning Kits
Storage/Display Cases
Cost: $$ - anything above $20 should be a good start - anything less is usually poorly made
If the sneakerhead in your life has a lot of shoes, chances are they either have some sort of display or are thinking of how to display them. The purpose behind having display cases varies between each sneaker collector - for example, I only have a couple cases to display my favourite 'grail' sneakers in my collection. There are others who buy a case for every sneaker in their collection so that it replaces the standard boxes they receive, as these boxes aren't as sturdy over time when stacked on top of one another.
The Extra Mile
There are various types of display cases - if you really want to tailor the case you get to the sneakerhead in your life, do a little digging into their collection. Do they have one pair thats always on display, out of the box? If so, I would suggest a clear case so the pair is protected and on full display. Do they have stacks of sneakers? Look into drop front boxes, where they can organize their collection in stacks, and still be able to see each pair (as the drop front is clear).
Collectibles
Cost: $-$$$ - it can vary based on the artist/collectible
Bandai Gundam x Nike SB Action Figure
This gift idea is a bit more broad than the rest on this list, as it heavily varies on the likes and interests of your loved one. For example, if they are a Michael Jordan fan, you can get an MJ Funko pop. If they like the artist KAWS (and you have a bit more money), then a KAWS figure could be the way to go. There are many other artists with really creative products that tie into sneakers, it just requires some research. I've linked a couple of my personal favourites above to give you a place to start.
The Extra Mile
This gift idea will require you to be observant of what they like/talk about the most. Do they have a favourite athlete or artist? For example, many (if not all) sneakerheads love KAWS and the figures that he makes as it perfectly compliments a sneaker display. Another example - Nike teamed up with Gundam not too long ago (from the time of writing this) and created custom Nike SB Gunplas and Gundam figures. Supreme also has their own collaboration with Gundam, which is a good gift for Gundam fans who love to build Gunplas. Once you determine their interests, I would suggest looking for gift ideas on Etsy, as many creatives post their items for sale there.
Kickbricks
Cost: $-$$ - Sale items are around $35, normal price is around $50
While these are considered as a collectible, I decided to isolate them because of how unique this item is. Kickbricks are basically the Lego version of sneakers. Lego has always been a popular toy over the years - and Kickbricks combine the two worlds together! There are vendors out there that make similar items, but I highly suggest Netmagnetism's Kickbricks as I find them the best designed and built compared to the rest.
The Extra Mile
Kickbricks come in many sneaker models - you'll need to check in with your sneakerhead and see what their favourite or 'grail' sneaker is. As of writing this post, Netmagnetism currently has Air Jordan 1s, 4s, Nike Dunks, and more models.
Candles
Cost: $-$$ - prices vary between vendors, but most are around the $20-40 range
Sneaker candles have gained a lot of traction these past couple years. They're highly detailed and tend to be well scented, even when not lit. There are many Etsy vendors that sell sneaker candles in various models, giving you a good amount to choose from, from Jordans to Dunks.
The Extra Mile
This gift idea is low effort for you as the gift giver. All you have to do is ask your sneakerhead what their favourite sneaker and scent is (try to be creative with the latter and not to say 'candle scent' so you don't give it away).
Art Prints
Cost: $-$$$ - prices and quality vary between vendors
We're five gift ideas in - you might be seeing a common theme with them. Most, if not all, are perfect compliments for sneaker displays and collections. Art prints fall right into that. Granted I might be a bit biased towards this one specifically (I mean, you're reading this on my webshop) but just like everything else, you can really tailor what art print you gift your sneakerhead based on what they like. It can be a specific sneaker model, athlete, or artist who also loves sneakers or may have collaborated with a sneaker brand. Whats great with art is that there are so many artists in the world with their own distinct styles and tastes that you can choose from.
The Extra Mile
Like the candles, this gift idea is a bit low effort, as its more so observational - sometimes you don't even need to ask about what your sneakerhead likes, as you can probably see what they already have or hear what they like to talk about the most. This also applies with the style of art you go with - are they more so lenient towards a minimal style, or more graffiti?
Books
Cost: $-$$$
Virgil Abloh: Figures of Speech
The Mamba Mentality: How I Play (Kobe Bryant)
Books might seem like the most boring option for sneakerheads, but I'd like to say otherwise. Almost all the sneaker related books I've bought provided a really in-depth look into the minds of the creatives who had collaborations with big sneaker brands. For example: Virgil Abloh, well known for his work with Pyrex, Off-White, and later his collaboration with Nike, had two books - Figures of Speech, and Icons. He documented EVERYTHING in those books - down to images showing every angle of the computers and hard drives he used when creating his work. Its insights like that that make books a worthy gift to your sneakerhead. Worst case scenario? It'll look good for a coffee table or bookshelf with a pair of sneakers on display.
The Extra Mile
Like all the other gifts, try to tailor the book you choose based on what sneakers they own. If you're not sure about the sneakers, ask them about it! "Who designed this? Is this a Kobe sneaker? Is this a Travis Scott collaboration?" Once you have that information, see if there are books related to the person.
Rugs
Cost: $$-$$$
Rugs, tufting and everything related have gained a lot of popularity online - many have picked up the hobby ever since the pandemic. As a result, you see a lot of creative rugs, from Pokemon Gameboy games to KAWS figures. A popular choice are sneakers - whether its the sneakers themselves, the sneaker boxes, or even just the logos. Not sure where to start? Try doing a search on Etsy or Instagram - you'd be surprised with what designs you can find!
The Extra Mile
This ones easier than the books - take a look into what brands and shoes your sneakerhead has, and see if any rugs are available in those styles. Better yet, see what their favourite sneaker or grail is, and go from there. Just keep in mind that rugs can be a bit more pricey!
Socks
Cost: $-$$
Socks may be considered as boring as the books, but one can argue its one of the most important aspects of the entire 'fit' besides the sneaker worn. Look into what colours your sneakerhead likes to wear, and use that to find socks that best compliment such colours.
The Extra Mile
Don't just go to your local Nike or Footlocker and grab a pair of 6 socks - look at other brands! There are many sock small businesses that have popped up since the pandemic, and they have many colourful options that compliment sneakers well. If you're short for time, try looking for Stance socks at your local shops.
Sneaker Cleaning Kits
Cost: $-$$
Crep Protect Shoe Care Bundle Pack
Jason Markk On-The-Go Essentials
A sneaker cleaning kit is a good essential for all sneakerheads, assuming that they maintain their sneakers. These kits have your basic needs - cleaning solution, a cloth, cleaning wipes, etc. The three I've linked above are arguably the titans in their industry - and in my opinion have greatly improved their products since they started.
The Extra Mile
Don't just get the kits with only a brush and cleaning solution - I suggest the full kits that have multiple brushes, wipes, cloth, erasers, etc. As those provide all around coverage in terms of sneaker cleaning.